-Lee Hildebrand, San Francisco Chronicle-
Her electrifying voice, sensual presence, and enthusiastic performance, bring her brand of r&b, funk and rock to transform a normal event into a sensation.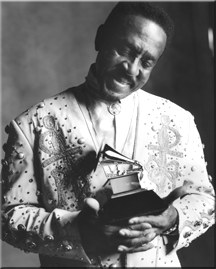 As the daughter of Rock & Roll legend and 2007 Grammy winner Ike Turner, Twanna's musical heritage is apparent.

"One can only imagine the inherent joy, problems pride, as well as heavy responsibility beautiful Twanna must have overcome to be recognized on her own merit, and not just the daughter of Ike. When you hear the passionate growls of the "Tigresse" one can't help but think of "Ike and Tina" at the same time Twanna's fraility and sensuality evokes the spirit of a whole other generation. Daughter of Ike of course but also of Prince and a blues original all the while reinforced by "Heavy Metal". Twanna does justice to her namesake".
Gerard Viche, Februrary 1998

---
Blutopia...
a dynamic group of talented musicians, back Twanna with pulsating rhythms and flamming licks. The synergy between Twanna & Blutopia pulls the audience into their performances, bringing them to their feet to party the night (or day) away. "I've had the privilege of sharing the stage with my father, Wilson Pickett, Steve Cropper, Elvin Bishop, Matt "Guitar" Murphy, Joe Louis Walker, and Otis Grand. Performances include Maxwell's Cafe' in Paris, France, The Battleship "Intrepid", in New York, The Redwood Run, Wavy Gravy's Camp Winnarainbow, San Francisco Blues Festival, Vacaville's Creekwalk Concert Series, Rio Vista Bass Festival, and the Blues and Brews Festival in Suisun City, California."
"My performance isn't simply entertaining an audience, it's an interactive experience. Bottom line, THE PARTY IS ON!!!"
May 24, 2006, New York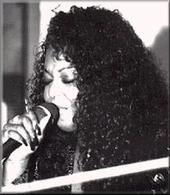 "FOR ME, SINGING IS AS NECESSARY AS BREATHING."

I first met my father, IKE TURNER, in 1988. I then decided to pursue a singing career.

As a child I sang in various church and school choirs, which greatly enhanced my vocal range, ability, and power.

I enjoy and perform a wide range of musical styles, i.e., rock, R & B, funk, and jazz.
My audiences appreciate this musical versatility.

Some of my vocal influences are Aretha Franklin, Cher, Pat Benatar, and Chaka Kahn.
click here to visit my Myspace page.